Retirement Advisors in Baton Rouge: How Much Cash do I need for Retirement?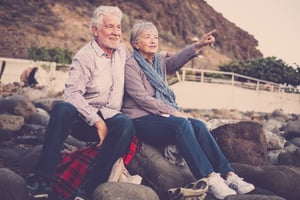 Having cash-on-hand is an essential piece of any retirement plan. Understanding how much and why is just as critical. Keeping three to six months of cash in your checking or savings account is recommended. Based on the budget (How Should I Begin My Plan) you now know how much available cash is needed in retirement.
Why Do I Need A Cash Reserve During Retirement?
First of all, any effective conversation regarding personal planning for retirees needs to include the topics of dignity and independence. Implementing and maintaining these cash reserves means that you won't have to reach out to your financial advisor every time you need additional funds; this ensures your independence. It also establishes that you won't be a burden to your family; this safeguards your dignity. Having a cash reserve plan during retirement also prepares you for inevitable, but unexpected expenses. Whether it's a new car, roof, or air conditioner, these surprises are sure to come along, and retirees are uninterested in financing these purchases. Your three to six-month surplus should allow you to navigate these expenditures.
Are There Additional Cash Reserves Needed During Retirement?
In addition to your three to six-month surplus, it is also advisable to maintain two years of living expenses in cash set aside to be used when publicly traded companies begin their next bear market. Why two years and not three or four? We simply don't know what the future holds, but from an investment perspective, rational decisions are made through historically based probabilities. When evaluating the historical performance and trends of 500 of the world's largest and most profitable companies, we notice these companies go down about 30 percent every 5.5 years, finding their bottom after about 15 months. A two-year reserve is a precautionary amount based on an account of every bear market since World War II, and how companies performed and subsequently reacted. *
You should select your trigger point based on your comfort level (usually somewhere around a 25% drop). When this point is reached, we turn off the income stream from your portfolio and replace it with income from your two-year cash reserve. In essence, this allows your portfolio to heal, breathe, and of course reinvest dividends at lower prices. As the market recovers (historically the S&P 500 has only ever rebounded to new highs), your income stream can be moved back to your portfolio; and when the time is right, you can rebalance, and replenish your cash surplus.
Can You Guarantee the Appropriate Amount of Cash Needed for Retirement is Accurate?
Although we use cold, hard facts and logic to determine the appropriate amount of cash needed for retirement, there are no guarantees in retirement planning. However, finding gratitude in a promising past allows you to move forward with a plan created within the realm of historical probabilities.
Here's to purpose driven wealth!
Grace and Peace,
Drew Hall, Financial Advisor
* "Buy Low, Sell Why." May 2015. MFS. 2015.
* "Treasury Return Calculator." Dec 2015. DQYDJ. 2015.
* "Dow Jones Return Calculator." Dec 2015. DQYDJ. 2015.
* "Consumer Price Index." December 2015. Multpl.
* "An Expanding Economy Doesn't Guarantee Bear-Free Market." Feb 2014. Mr Top Step.
The information contained in this material does not purport to be a complete description of the securities, markets, or developments referred to in this material, and does not constitute a recommendation. The information has been obtained from sources considered to be reliable, but we do not guarantee that the foregoing materials is accurate or complete. Every investor's situation is unique and you should consider your investment goals, risk tolerance and Raymond James. Expressions of opinion are as of this date and are subject to change without notice. There is no guarantee that these statements, opinions or forecasts provided herein will prove to be correct. Investing involves risk and you may incur a profit or loss regardless of strategy selected. Keep in mind that individuals cannot invest directly in any index, and index performance does not include transaction costs or other fees, which will affect actual investment performance. Individual investor's results will vary. Past performance does not guarantee future results. Further investment performance cannot be guaranteed, investment yields will fluctuate with market conditions. The S&P 500 is an unmanaged index of 500 widely held stocks that is generally considered representative of the U.S. stock market. Rebalancing a non-retirement account could be a taxable event that may increase your tax liability.